My mother-in-law taught me how to do this hair style and I LOVE it. I haven't never done Britt or Kalixta's hair so I decided to try. Once Zoe saw me doing it she wanted me to do hers. So here are the befores:
And the afters:
If I take pictures everyone has to be in one. I thought this one was sooo cute!! Oh, Britain's hair isn't curly because she went to sleep way early. So she'll get her turn next week.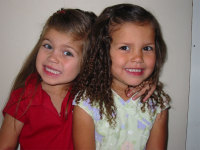 One last picture: Ari in her birthday dress from Grandma Mary. Most of her pictures she either has her month open or she is crawling to get the camera, but she is still super cute even with her crooked ponytails!!