I love Nativity Sets! Every Christmas I hint to Adam that is what I want, but I haven't got one from him yet. Guess my hints aren't good enough. HeHe! So this year in my new house I was determine to have one, but being the person that I am I couldn't spend money on something that I wanted. Until I found a little $2.00 one. It was cute so I got it.
A week later my sister, Marci and Kenny bought me this!!!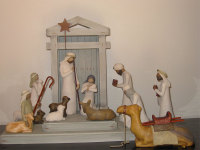 It is the Willow Tree set. I LOVE it!!! It is in the living room right next to the Christmas tree. My favorite thing is that Mary is holding her new baby, Jesus!
Thank you Marci! Thank you Kenny! I love you guys! This means so much to me!
~Melissa