This is our garden! We tried Square Foot Gardening the year and it is working great. Adam made the boxes and we all help plant them. Nikolas hauled most of the special dirt combination. We have carrots, lettuce, zucchini, onions, yellow, red and green peppers, pumpkins, watermelon, cantaloupe, tomatoes, green beans, cucumbers and beets.
This is the first garden I have planted all by myself with my family and we have had so much fun watching it grow. Ammon is the green thumb in our family. He loves to water with me and begs to go out and look for new veggies that have grown. Last week we picked our first zucchini. I told Ammon we could pick it for dinner. He bugged me every ten minutes asking if we could pick it yet. Well we picked it and he is SO proud.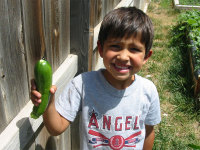 Unfortunately he didn't get to try it (that honor went all to Adam!) but he also picked our beets and some lettuce. I let the lettuce grow a bit to long so it was a little bitter, but I still enjoyed my salad. Much to my surprise EVERYONE liked the beets! Now I wish I would have planted more. Oh well, there is always next year! Tonight we will try the beet greens. I hope that goes just as well.