On January 27th, that scripture in D&C was fulfilled in my life. For almost 15 years I have toiled with trying to help my family accept the Gospel. It has been difficult and very discouraging.
I had finally told myself that if it was to happen that it would probably be a long time from now. I was okay with that because I always knew that eventually it would happen. My Patriarchal Blessing says so.
So you can guess that I was as shocked as anyone when my sister Diane called me to tell me that she and her husband Rhea were talking to the missionaries. As I saw them progress and begin the change of heart that comes with conversion, I was beyond ecstatic.
Well, the day did arrive when I got to baptize them. It was one of the greatest spiritual times of my life. I was not prepared for the spiritual onslaught that I witnessed. As I hugged my sister after giving her the Holy Ghost I was overcome with joy. I was unable to control my emotions. Good thing I was among my ward family in the Oxnard 1st Ward. They know me and understood what I was going through. At least I hope.
I have to tell Rhea and Diane thanks for that wonderful gift they gave me. Most of all, I have to thank Heavenly Father for the miracle that has come to the Basua and Moore families. I know it will bless us for generations to come.
~Adam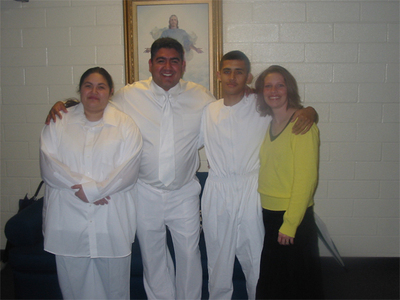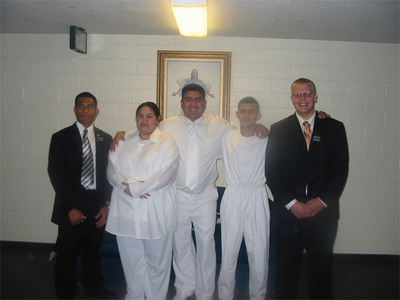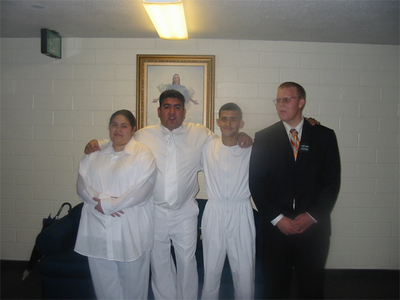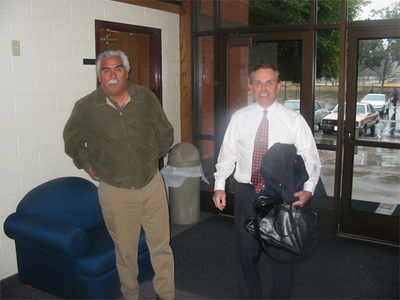 This is my Dad with President Lewis. What a day!